We don't know about you, but this winter is just getting to be a bit much for most of us across the US. The COLD, the SNOW, the ICE just enough already! They do say March comes in like a lion and goes out like a lamb, here's hoping that lamb shows up sooner than later! At least we have a new challenge for you.
A new challenge means a new sponsor, and we have a wonderful company lined up! Please welcome back Meljen's Designs!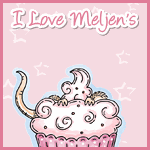 Here is a little about them in their own words:
Meljen's Designs is a lovely stamp company owned and illustrated by Melissa Jenkins. She illustrates whimsical rubber and digital images inspired by her kids and family. Meljen's Designs has a new challenge every Thursday, and a Guest Designer each month at the Meljen's Designs
Blog
. Please visit the adorable line of Meljen's Designs stamps at our store
HERE
to browse all of Melissa's lovely designs! You can also see Melissa's exclusive rubber stamps at her corner of
Whimsy Stamps
, too! Don't forget to join Meljen's Designs on Facebook
HERE
to take advantage of special sales and promotions that are just for her facebook fans!
They have generously offered a prize of 4 (non colored) images for our winner!
Speaking of lions and lambs, we have a fitting theme for our new challenge: Animals.
Simply
create a project featuring an animal, easy peasy!
Here is the menagerie from the team:
with two adorable creations
If these cuties don't put a smile on your face, then you might just be frozen...don't worry, spring is coming! LOL.
Please use keyword Corrosive194 when uploading to online galleries.